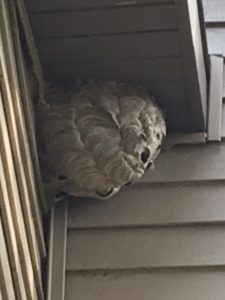 Bald Face Hornet Nest
Ants and Spiders are the most common insects to invade your home or business. Their bite can not only cause pain, it may even cause infection. Breathing problems such as Asthma can be triggered by pests in the home or workplace. Summertime also brings a host of stinging insects such as mosquitoes, bees, wasps, and hornets.
We offer pest control service for a variety of pests including but not limited to: Ants – Spiders – Ticks – Mosquitoes – Box Elder Bugs – Fleas – Centipedes – Millipedes – Earwigs – Asian Beetles – Bees – Wasps – Hornets – Cockroaches – Bed Bugs – Crawlers and Occasional Invaders
Quotes are given over the phone for these common pest problems.